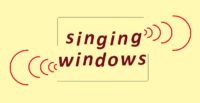 Robert Jarvis setting up a Singing Window on You Tube
Congratulations! Robert Jarvis wins Digital Award with Singing Windows
The Digital Award is a new award sponsored by Deeson Creative to recognise the use of emerging technologies or digital media to create an outstanding experience. It was won by Robert Jarvis for his innovative sound installation 'Singing Windows'.
Singing Windows was a sound installation project that took place in Margate, Broadstairs, Cliftonville, Herne Bay and Canterbury, bringing together independent retailers, the general public, and sound artist Robert Jarvis.
Using Feonic audio technology, shop window fronts were utilised to function as loudspeakers capable of playing gentle sounds, affecting the street's atmosphere at the various locations and enticing the unsuspecting general public. The installation made use of birdsong, recorded and manipulated by the artist, and then sequenced so that the different birds appeared to call and respond to each other from the different locations within earshot.
The overall sound was subtle; however, the effect was marked, and what began as a small idea on Margate High Street at the beginning of the year, grew into a much larger project, thanks in part to Canterbury Festival's Prosper initiative.
The judges admired Jarvis' ambition to make an impact on all kinds of social and environmental factors in a sometimes challenging high street space, and described the work as "a really innovative, but also lyrical and poetic digital piece that made connections with all kinds of audiences in easy to access ways" The Awards was collected for Robert Jarvis by Michelle Boakes, as Robert is currently in France working on a Singing Windows installation there.