This audio visual installation in the Schuh store in Oxford Street, London, incorporates a number of old televisions, playing the behind the scenes film of the AW12 photo shoot. Alongside product, shoe boxes, suede brushes and campaign imagery.
In addition, a whispering window has been installed, this is a Feonic 'speaker' attached to the glass, which projects music from the film out onto Oxford Street.
Not only does this add another element (sound) to the traditional visual merchandising in the installation, but it also has the advantage of drawing the attention of passersby and encourages them to take a look into the window.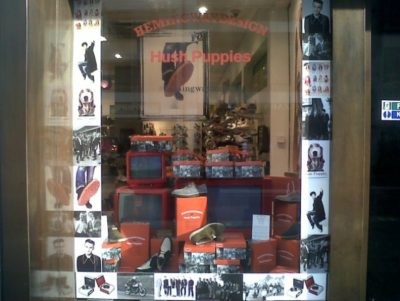 Audio Visual Installation to attract attention to the new range of products
The reaction to date has been really positive, the attached images don't really do justice to the dynamic, attention grabbing nature of a Feonic Whispering Window. So if you've a chance, please head down to Oxford Street and see the window for yourselves. The audio visual installation will be in store until Monday 24th September (2015).
Learn more about Hemingway Design's new Hush Puppy range