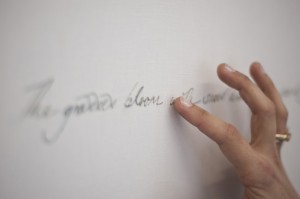 Adriana Paice used Feonic's F4 audio drives to transform stitched canvas into a sounding board.
To find out more about her work visit www.adrianapaice.com
Here is an overview of the project by Adriana …..
I used the speakers to transform the blocked, stitched, canvas into a sounding board. I connected the speakers to a PCB (printed circuit board) that translated the resistance in the touch sensitive thread into a signal; so as people ran their fingertips over the contours of the silk embroidery, couched with conductive silver thread, they completed the circuit and triggered a fragment of poetry that played through the Feonic speaker attached to the rear of the stitched piece.
For the motion sensitive pieces, again the speaker was attached to the back of the blocked canvas and connected to a pcb, which this time, took a signal from a PIR sensor embedded into the bottom of the frame. As people passed by their motion unlocked a piece of poetry that played though the speaker and resonated out of the canvas.
With every new encounter, with either piece, the viewer unlocked a different fragment of poetry, some whispered, some spoken, by range of different voices (old and young; male and female), so the work continued to recompose itself.
Third party reference
"In the context of the gallery all the different fragments echoed through the space and with multiple visitors, started to build up a rich soundscape of memories and ideas".