Feonic have a 15 year history developing magnetostriction powered vibration speakers. Creating new markets such as Whispering Window® for retail, and the often imitated Soundbug® kid friendly gadget along the way. Our technology isn't suited to cheap gadgets you attach to cereal boxes; this is a professional audio technology suitable for an endless range of home and business sound applications.
Picture Frame Speakers - Turn your favourite artwork into a flat speaker
Consider this sound art installation project by Adriana Paice. Intimate sound played just for the viewer.
An alternative approach to traditional box loudspeakers is to convert an artwork into a super thin flat speaker. The picture and frame hides the audio technology: the surface generates the sound.
This approach may be appropriate for temporary art installations which require sound, or where a surface mount speaker on a wall panel is not appropriate or practical. Additionally, this technique ensures the sound is generated directly from the print or painting itself. Creating an exciting immersive audio experience without speaker boxes or grilles.
We should show you an image of one of our fully invisible speaker solutions here. But there is nothing to see. Take a look at your wall, ceiling or floor...
that's what your flat panel speakers will look like
Of course you will need something to create the sound. The box on the right (mobile/tablet users click here) is screw mounted on, under or behind surfaces. The biggest in our range has the same footprint as a smartphone and is a few inches high. The smallest is a little bigger than a matchbox.
You've already decided you don't want or can't use a traditional box loudspeaker. Why settle for a traditional flat panel speaker, just use everyday surfaces.
Take a look at some of our many case studies. You'll find examples for invisible speakers around the home; advertising from store windows; sound art installations including picture speakers and more. We can help you turn any surface into a speaker - it just has to be resonant. That is, makes a nice sound when tapped. A brick or lump of concrete? No. A wall, wooden floor, glass panel, ceiling, sheet metal? Yes.
Invisible Speakers for Immersive Museum Installations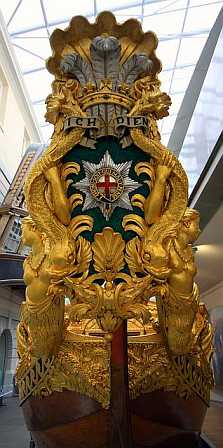 "I'm a big fan of Feonic F1.3's and have used them many times to great effect.

In this case the devices allowed us to invisibly transform a 10 meter long wooden walkway into a multichannel speaker array.
As the walkway runs alongside the boat and the sound emanates from the entire surface of its structure I believe listeners are able to associate sound with the exhibit more directly and more intuitively than if the sound were to be provided by a loudspeaker.

Loudspeakers inevitably say to the listener 'I am a loudspeaker', instead we wanted the sound to speak for itself".
Any Surface Speaker Drives
Flat Speakers are created when a surface transducer applies vibration to a resonant panel. Our surface transducers, when attached to resonant materials, emit sound across the entire surface of both sides of the panel. This approach enables you to hide the small transducer near the edge of a panel, perhaps at the bottom of an internal wall where it can be easily hidden by furniture. Or ideally mounted on the reverse side of a surface making it completely invisible. In addition to great quality audio you also get a more even sound distribution as the entire panel emits the sound; preventing "too loud" hotspots.
Loudspeakers: always at or near eye level: always in line of sight. Why?
Either Feonic approach (hidden or invisible) avoids the clutter of visible box speakers and perhaps their mounting brackets and wires. And in the case of traditional surface mount loudspeaker installations you are drilling into highly visible locations and running wires up walls or through walls in highly visible places.
Always at or near eye level: always in line of sight.
And this visible distraction for a technology for the ears not the eyes.
Alternatively you may go for a loudspeaker embedded in a ceiling, wall or display case. But this results in an untidy grille or some other obvious cover. Which always look out of place and can attract dirt. Choose Feonic to avoid clutter and an expensive and messy installation.
Traditional loudspeakers need to be in light of sight, so you can't help but notice them. Likewise, most typical flat panel speakers are thin but still large, relatively bulky boxes mounted in clear view, usually black and only slightly less obvious than their more boxy cousins. Our technology can be virtually or totally invisible and operate as wireless speakers as wires are hidden away.
The vibration speaker approach to generating sound can turn any surface into a speaker. You already have the panel surface: your walls, floors, ceilings, windows or even outdoor decking. We provide the surface transducer and can help with expertise on how to install the drives to best effect. This combination negates the need for intrusive boxes mounted in highly visible locations or for extensive, expensive and messy installation. Instead you get an on wall speaker which, with careful positioning, can be fully or virtually invisible.
Flat speakers can't get any flatter - invisible in wall speakers
If access to the rear of the surface is available then it is easy to create a fully invisible in wall speaker. Flat speakers can't get any flatter than emitting sound without any obvious physical device. And if you can hide the transducer behind a surface then you've effectively got a wireless speaker; where the wires are hidden behind or under the surface emitting sound.
Magnetostrictive Transducer : Massive Power - Micro Amplitude
UK based Feonic are experts in the field of magnetostriction, a technology similar to piezoelectric but using a smart material which produces massive force at low amplitude. Our flat panel speakers create great sound from tiny micro vibrations. Both sides of the panel emit the sound, creating what is sometimes known as a distributed mode loudspeaker (dml). These 'surface speakers' can be curved surfaces; not strictly limited to flat panels. Read more about magnetostriction on wikipedia.
Magnetostrictive Transducers generate massive power but crucially with non damaging micro amplitude. Ensuring sound emanates from an area tens or hundreds of times as large as traditional 'point source' loudspeakers. This is the key to the immersive surround sound quality of the music, voice message or special effects. Additionally, the sound decays quite quickly reducing noise pollution problems. And you get stereo too, even from a single panel.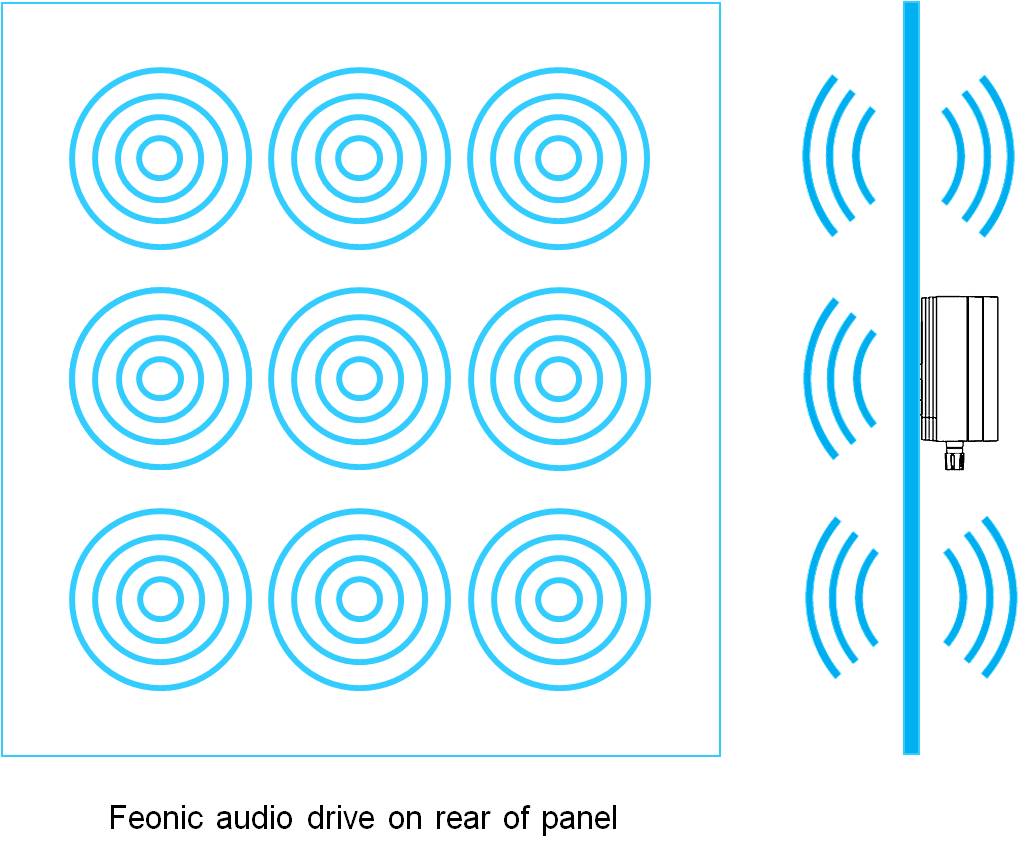 Both sides emit a high quality dispersed sound field for an immersive surround sound experience. Circles indicate how the entire panel emits relatively modest sound levels but over a huge area. Lower amplitude of vibration leads to less stress on materials: the surface won't be damaged in any way. Our surface transducers are capable of a wide frequency range from around 50Hz up to ultrasonic frequencies of 22KHz.
Where are our Flat Panel Speakers used?
Typically, our vibration speaker technology is used behind or on walls, or for ceiling speakers and even under floor speakers. In addition, primarily for the commercial sector, we have the Whispering Window® range which convert store windows into giant flat speakers. The crucial factor being that the vibration speaker drive is hidden out of sight, often becoming a completely invisible speaker; only the original surface can be seen.
Learn more about our vibration speaker technology or contact us or use the contact details below for more information on how to use our surface transducers to turn any surface into a flat speaker.