Vibration Speaker Technology - Massive Force : Micro Vibrations
The Feonic Surface Speaker creates music, audio effects and clear voice communication from resonant surfaces.
Fit without fuss in minutes. For Retail Advertising, Museums, Office / School / Hotel Communication, Home & more
Trailer of the Weather Experience, Pommern - 100 days under sail
24 F1PRO Feonic Invisible Speakers mounted around the interior of the ship. Supported by 4 subwoofers.
From Kimmo Karjunen with Sound Designer Tuomas Fränti. On Vimeo.
Our Invisible Speakers are perfect for audio in the home, your business premises, artworks, a museum display case or even an entire exhibition space. No echoes or "too loud" hotspots. No damage to surfaces. Robust enough for outside in hostile environments.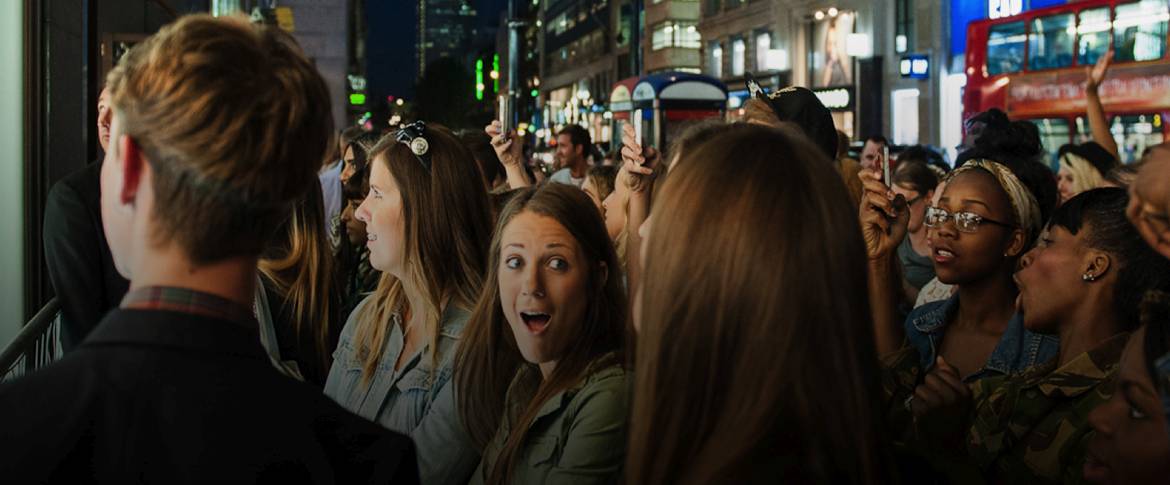 Feonic products are suitable for a wide range of applications:
home audio systems
commercial premises, advertising and promotions - indoor and outdoors
boardroom, offices, cleanrooms, schools and presentation theatres
hotels and care homes. Entertainment, PA and even low frequency sound masking
multi-zone ambient sound for restaurants, galleries or museums
artworks and museum display cases
Attach a Feonic surface transducer to a resonant surface to create a high quality resonance speaker. A surface which envelops the listener in immersive sound. Powerful, portable, robust and easy to install (DIY skills only).
Ideal for heavy surfaces such as store windows and solid oak flooring and also lighter surfaces such as furniture, drywall / plasterboard and more. The low amplitude (excursion) ensures surfaces are not cracked or damaged by excessive vibration.

Surface Speaker solutions fall into these broad categories. Click through to learn more:
Resonance Speaker created from Resonant Surfaces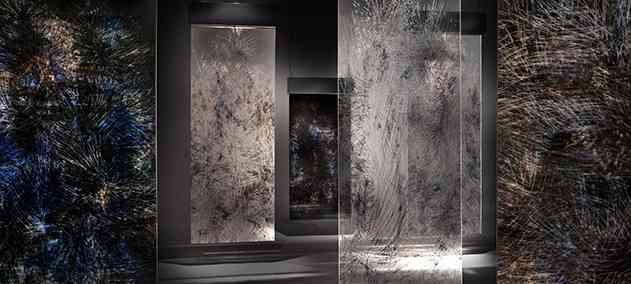 A resonant surface makes a pleasant sound when tapped.
The sound generated from the surface disperses through the panel. All will hear the same immersive surround sound at the same volume level. Avoids "too loud" hotspots.
Positioning is not as critical as with 'normal' speakers. The latter have to be in "line of sight". Painfully obvious. For sound art installations or museums the ability to hide a speaker can be critical:
"Loudspeakers inevitably say to the listener 'I am a loudspeaker', instead we want the sound to speak for itself".
Sound Designer
Nick Ryan
referring to his use of Feonic resonance speakers in a museum installation.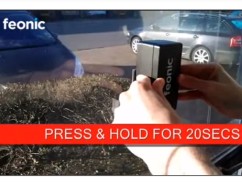 "We saw a sales increase of over 40% in the first week"
"Delilah's pop up gig at TOPSHOP - a world first"
"I can't get over how many people stop outside the store"
"Peel and stick - it's really that simple to install!"
"You have no idea where the sound is coming from"
FAQs
What's the differences between Feonic and alternative in wall speakers?

Feonic's unique micro-vibration amplitude is non damaging and suited to driving many structures. The amplitude of wasteful vibration other speakers create can be 300 times greater than an efficient Feonic Surface Transducer. These are potentially damaging vibrations. Additionally, Feonic vibration speaker drives can emit low and very high frequencies: 40Hz up to ultrasonic sound at around 22KHz. Feonic drives also have the advantage of being small, portable, removable and all weather resistant.
And depending on which solution you are going for, our technology is much simpler to install. You can fit our drives on, behind or under surfaces. Watch In Wall Speaker Installation videos and shudder at the effort, mess and expense.
How do Feonic vibration speakers work?
Our Smart Materials make other speakers sound dumb.
We use magnetostrictive Smart Materials to create wide frequency vibrations within surfaces. Developed for advanced military sonar technology, and in collaboration with the University of Hull. Feonic's award winning and multi patented technology is like no other vibration speaker product on the market. This is not a toy or gadget technology for cardboard boxes and the like.
Not all surface vibration speakers are the same. Superficially similar to a piezoelectric transducer, our products deliver high power and exceptional audio quality from the smallest vibrations. Vibrations up to 300 times smaller amplitude than alternatives. This micro vibration approach is a critical factor in avoiding damage to structures and to ensure high audio quality.
In what ways will Feonic Surface Speakers work better for me than traditional loudspeakers?
Feonic transducers activate large areas of windows, walls, floors or ceilings. In this window speaker example a single sound transducer powers a window. Delivering a controlled wall of sound over the entire surface area.
This allows passersby to hear the music or promotional message while they walk past the full length of the window. And at a constant volume without the sound getting annoyingly louder as they approach the speaker.
The consistent audio output is controllable to avoid noise pollution.
Problems with traditional loudspeaker technology
Traditional loudspeakers are subject to abuse from the weather, vandalism and theft. Wires are run through walls, either drilled through brickwork or window frames. Alternatively, Feonic drives are safe inside: fit without fuss in minutes.
The sound is louder the closer you get to the traditional loudspeaker - a "too loud" hotspot is the result. Conversely, the volume drops rapidly. To compensate for this traditional loudspeakers are often too loud, leading to noise pollution issues.
Too loud? And too quiet? Try Feonic technology for volume that is just right and for all your audience, not just those lucky enough to be situated in the volume or stereo sweet spot.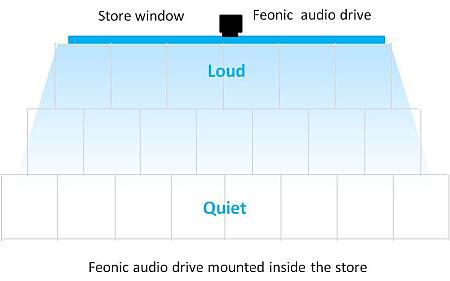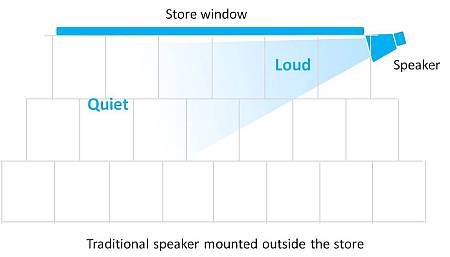 "Delilah's pop up gig at TOPSHOP - a world first"
PLAY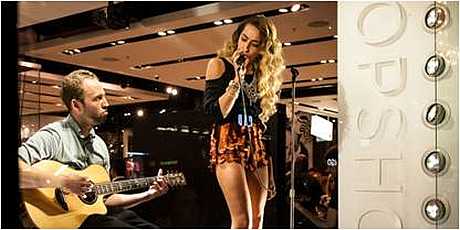 Unique Audio Solutions for street perfomances : musicians inside, audio inside and outside with Whispering Window Glass Speakers.
Click image to watch the performance.
Summary of benefits of using Feonic Vibration Speakers
For Glass Speakers - install in seconds - peel and stick. Simply screw onto other surfaces like wood, metal, plexiglass or drywall
Compact and Portable. Plug and Play. Use home audio amplifiers or professional audio equipment
Non damaging micro-vibration technology
Controllable output - reduced noise pollution. Volume that is 'just right'. No annoying audio 'Hot Spots'
Cost efficient market entry - low installation and maintenance costs
Infection control - inert to MRSA and other airborne bacteria
Water resistant (IP55) design and construction. Supports high humidity and temperature extremes
Sounds great. Particularly the immersive quality of the sound.
---
Surface Speaker Audio Drives
Our resonance speakers can be purchased direct - phone +44 (0)1482 806 688 or email sales@feonic.com for pricing or to find an installer or reseller near you.

Need help deciding which drive is right for you? Get the Specifications
Feonic F1PRO Audio Drive
Powerful voice/music surface speaker drive. For Interior Walls, Windows, Ceiling Speakers, Under Floor Speakers.
Sound level typically up to circa 92dBA
Bandwidth - 80Hz - 20kHz
Amplitude - 10µm @ 100Hz
Applications include home audio equipment; office and boardroom audio visual systems; Whispering Window, interactive advertising displays; waterproof speakers; outdoor deck speakers; public spaces and more.
Size 141 x 57 x 56 mm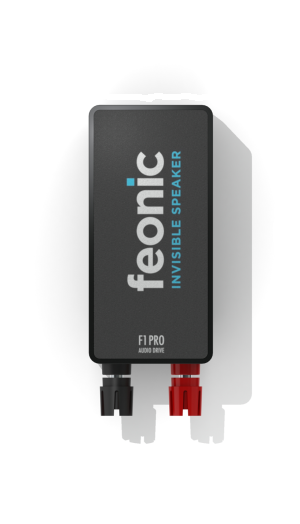 ---
Feonic F4PRO Audio Drive
Compact versatile smaller panel speaker. For intimate, controllable sound.
Low power typically 10W - 20W
Sound level typically loud conversation level (circa 80dB)
Applications include picture frame speakers, museum display cases, bus shelter advertising, point of sale kiosks, vending machines, portable sound systems, small rooms and demonstrators.
Bandwidth - 100Hz - 20kHz
Amplitude - 7µm @ 100Hz
Size 76.5 x 46 x 26mm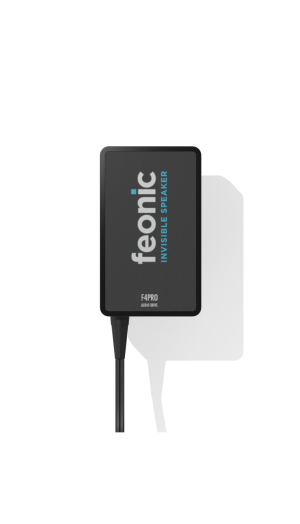 ---
Boxed Solutions
Presenter Pro (Stereo) - Turn a table into a speaker
Portable vibration speaker. Stereo dual drive F4PRO solution for office and boardroom presentations without the need for bulky PA speakers. Just place on top of a table or for a more permanent installation screw mount underneath. You've now turned the table into an invisible speaker.
Supplied with F110S amplifier, PSU, cables
International power heads
Headphone plug for maximum flexibility. Just plug into a mini-headphone socket as found on notebooks, smartphones, tablets etc.
Soft pouch for protection and portability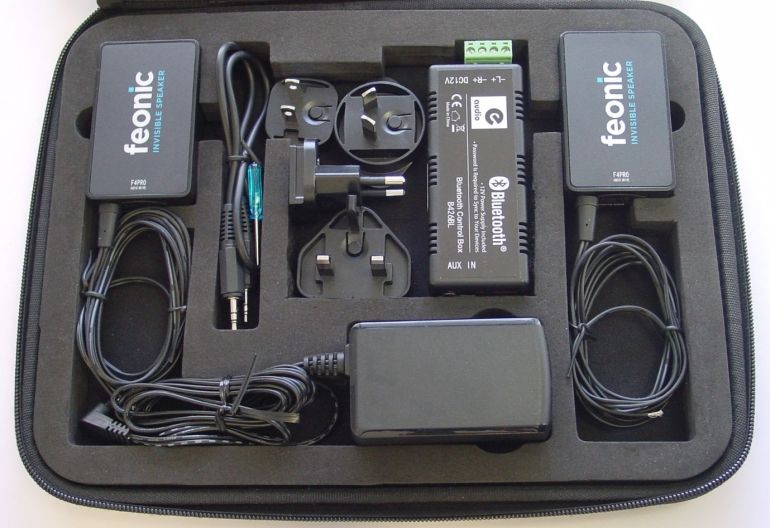 Click to buy online
---
F1.3 Demonstration Kit
Portable dual drive F1PRO solution for resellers, sound artists, sensory marketers etc to experiment, trial and demonstrate
Supplied with F110S amplifier, PSU, cables
International power heads
Headphone plug for maximum flexibility
Soft pouch for protection and portability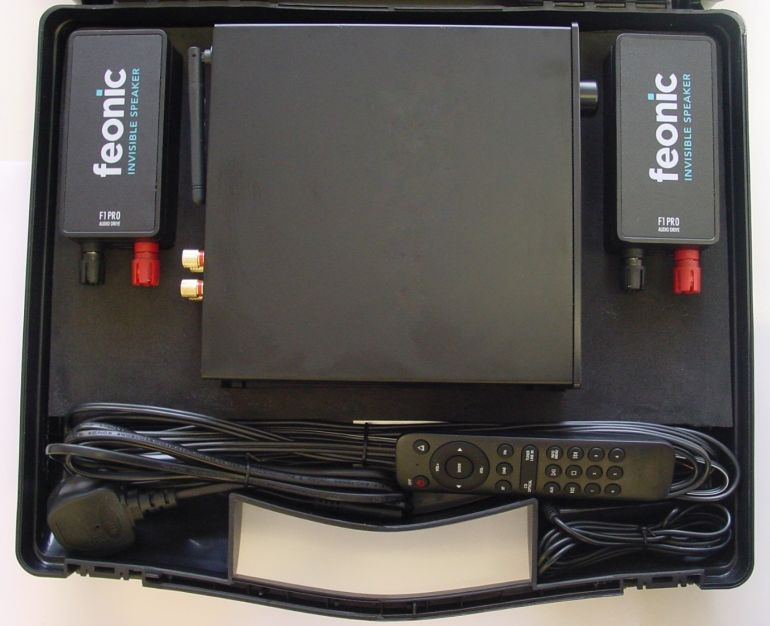 Click to buy online
---
Whispering Window boxed set*
2 x F1PRO Audio Transducer Drives, for simpler glass panel speaker installations
Connecting cable 3.5mm x 2 phono x 1m
Audio drive cables 2 x 1.5m
Adhesive pads
Whispering Window instruction manual
* note amplifier not supplied, we can advise amplifier options
Ben Rhodes of Heals commented "The discovery of Feonic's Whispering Window® has really brought this whole project to life. The speakers were attached to the windows in seconds, without any damaging external fixings. So easy. People were stopping at the window even during testing."
Read more
(PDF approx 500Kb)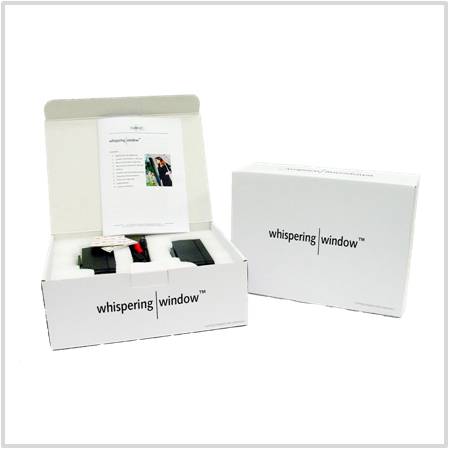 Need more detailed information? See the Technical Specifications page
---
Made to Order Ultrasonic Exciter and Sound Transducer Solutions
The Feonic Special Product Division (FSPD) designs application specific audio equipment to suit bespoke client needs.
This includes:
Inbuilt devices for Digital Signage, Spatial Augmented Reality, Interactive Advertising
Inbuilt devices for promotional items, Sensory Marketing, Sound Art Installations
Specific frequency range devices, for ultrasonic marketing, communication and triggering
Anti social behaviour modification systems using positive sounds to promote better behaviour (PDF). Ideal for malls and the high street
Please make contact to discuss any specific needs.
---
Surface Suitability and Material Sensitivity
Materials such as stone, cement, tile on a solid floor, block, brick and cast cement structures cannot emit sound using Feonic Vibration Speaker Technology.
The best materials that can be turned into a panel speaker include: wood, MDF and all sheet woods, glass, plastic sheet (acrylic/polycarbonate) over 6mm in thickness, aluminium, steel (up to around 6mm), plasterboard and other drywall materials, reinforced plastic, grp, reinforced sheet cement, resin boards, honeycomb boards, aluminium, resin and polymer, aluminium extrusions and hollow profiles.
"Peel and stick - it's really that simple to install!"
Peel and Stick installation in minutes on glass. Mount with 4 screws on other surfaces