Resonance Speakers. Specifications for Surface Speakers, Kits and Amplifiers
Feonic lead the field in high power, high sound quality resonance speaker technology. With a 15 year history supplying innovative audio solutions for home and commercial premises. Walls, floors, ceilings, hollow objects and glass surfaces can magically produce music, sound effects or speech. No boxes, no wires, no grilles.
PDF technical documentation. Typical file size 300kb. All files are dated January 2015 unless otherwise stated.
---
Whispering Window® gets heard through the noise
Attach to store windows and the sound generated will attract more shoppers to your store. Up to 40% increase in sales - what else do you need to know?

Whispering Window Technical Specification
Whispering Window Lite Technical Specification
Peel and Stick : Feonic Whispering Window® instantly turn windows into massive glass speakers.
Live Events : MultiSensory Marketing, using theatrical effects in-window. Store windows turn heads when brought to life by sound.
Popup Gigs : Transform the store window into a stage with a resonance speaker. Fans get really close to the performer without security compromise or expensive outside broadcast equipment.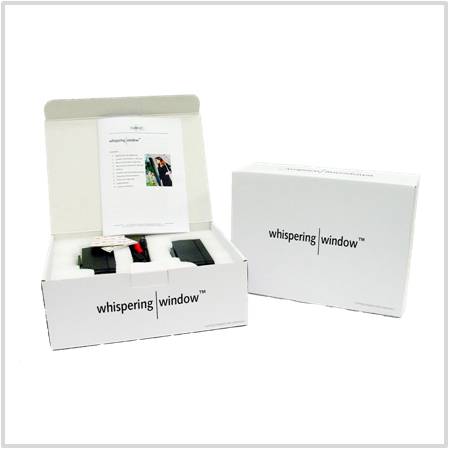 ---
Surface Speaker Demonstrator Kit
Primarily for Feonic resellers and distributors : enables powerful stereo demonstration of Feonic technology in a convenient portable manner when connected to a music player, PC, Mac or mobile phone.

F1PRO Demonstration Pack Technical Specification


Promotional Campaigns : Independent research on the use of Whispering Window has shown consistent results: increased shopper engagement; increased footfall; and increased sales. Up to 40% sales boost in the first week of a campaign.
Interactive Advertising : Attract attention to interactive advertising, augmented reality promotions and on line registration using interactive Whispering Windows.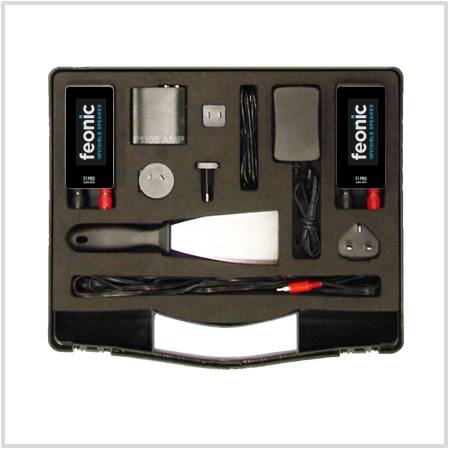 ---
Presenter Pro Stereo Pack - Portable PA System
Portable resonance speaker. Stereo, dual drive F4PRO solution for office and boardroom presentations without the need for bulky PA speakers. Supplied with F110S amplifier, PSU, cables. Audio input from a standard headphone plug.

Presenter Pro Stereo Pack Technical Specification
Click to learn more.
Office and Boardroom Audio : Turn your boardroom table into a speaker. Install behind wood panelling or create invisible ceiling speakers.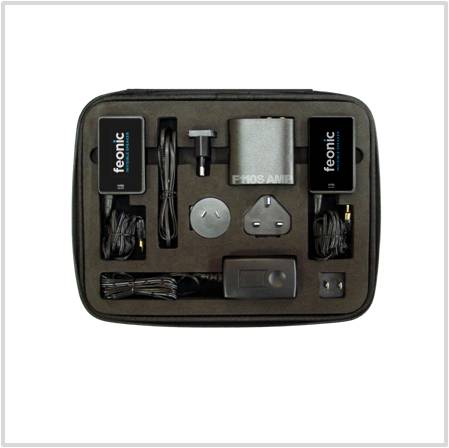 ---
The F1PRO Range - the mainstay of our products
Applications include Whispering Window, spatial augmented reality, interactive advertising displays, point of sale, bus shelters, sound art installations, wet rooms, outdoor decking, public toilets, public spaces and more.

F1PRO Surface Speaker Technical Specification
F1PRO Mounting Plate Technical Specification
40 Watt Transformer Technical Specification
Home Audio : Our Resonance Speakers are easily installed behind walls, floors and ceilings for great sound without design compromise. Painless installation without plastering and re-decorating.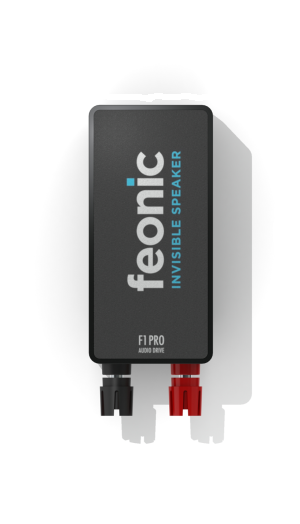 ---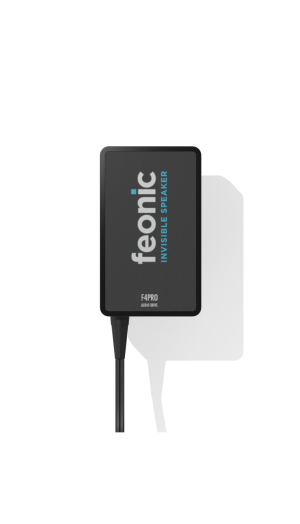 ---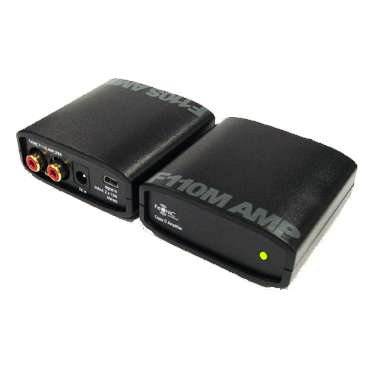 ---
The F6.2 Audio Transducer - ultra small and lightweight - for specialist applications
The F6.2 miniature audio transducer can be integrated into any small mobile or audio device to enable invisible audio to sound through a desk top or other resonant surface.
Applications include mobile phone chargers and docks, Notebook PCs, Tablet computers, VOIP devices, Hands free equipment, Conference call systems.

F6.2 Surface Speaker Technical Specification
---
Innovative Audio Solutions
Hi Frequency Signal Transmission : Feonic resonance speakers can deliver signals of 22KHz and above enabling them to be used to transmit continuous sonic signals enabling detailed content delivery to your mobile device.
Do you want to know how you can benefit from this amazing technology?
Check out the case studies via the big blue buttons below.
Convinced? Or need a bit of help deciding what you need? Then contact us.