Trailer of the Weather Experience, Pommern - 100 days under sail
24 F1PRO Feonic Invisible Speakers mounted around the interior of the ship. Supported by 4 subwoofers.
From Kimmo Karjunen with Sound Designer Tuomas Fränti. On Vimeo.
Our Invisible Speakers are perfect to audio enhance your artwork, museum display case or even an entire exhibition space as in the Pommern museum ship in Åland, Finland above. No echoes or "too loud" hotspots. Robust enough for outside in hostile environments.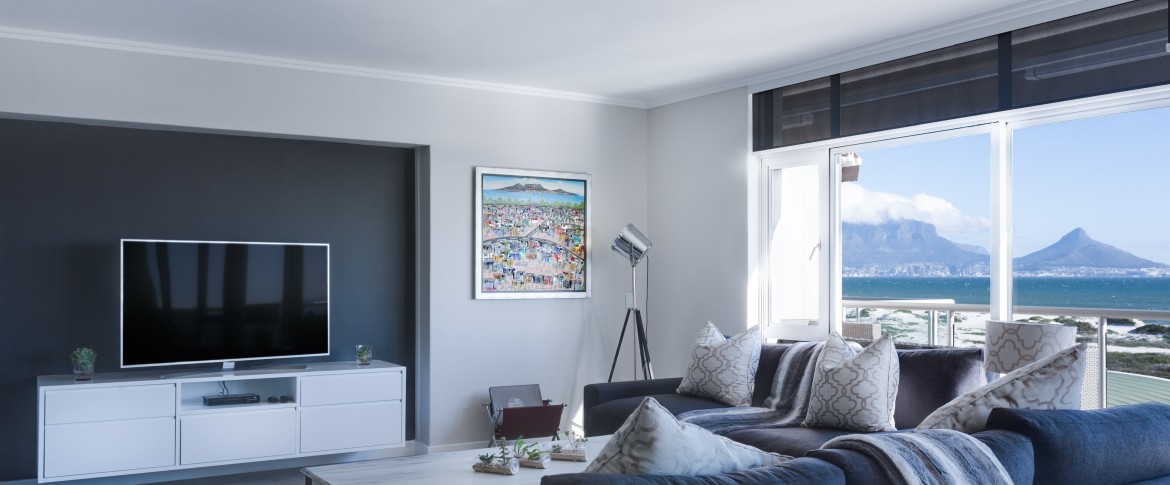 Feonic Invisible Speakers enable easy and cost effective installation of concealed speakers. Ideal for interior designers, acoustic designers, and advertisers. And all who appreciate quality sound and sleek design.
Use our powerful and robust surface speaker technology inside or outside. Avoid bulky and obtrusive speaker boxes or grilles cluttering up your wall, floor or ceiling. And, unlike low profile speakers, options to avoid cutting holes in surfaces. You can avoid the messy, extensive and expensive installation processes that are inevitable with in wall speakers.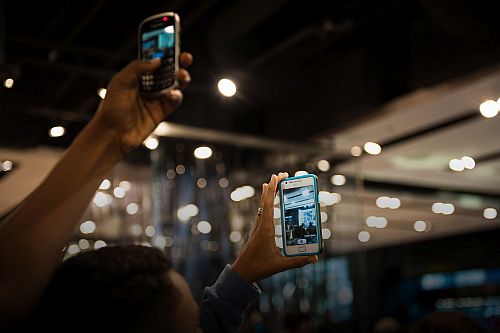 "Our interior design has clean lines for the bar, stepped ceiling and tinted reflective walls. We spent ages looking for an invisible, 100% hygienic solution that delivered a high quality sound at an affordable price. It had to be easy to install to prevent disruption to the business. Feonic's product lifts the total immersive experience to an awesome level.
I just love it!"
We have over 15 years experience designing, developing and manufacturing powerful audio transducers. Bond to surfaces; and those walls, ceilings, floors or glass panels become speakers. Creating great stereo sound. And, thanks to our unique ultra low amplitude technology, preventing damage to surfaces.
Powerful Surface Speakers for heavy surfaces - far greater power than generic vibration speaker gadgets
Both sides of the surface emit sound. Mount our devices on the rear of the panel which will become the speaker. No grilles or perforations. No wires or bulky boxes to compromise your design and interiors. And stereo too, even with two drives on the same surface.
We develop and now manufacture in the UK a wide range of pro audio technology. Not toys or gadgets: sorry, our specialised equipment is engineered for home audio and professionals. Perfect for interior design, advertising, outdoor promotion, communicating (PA) and the arts.

We develop a wide range of solutions for:
How our Solution differs from a Low Profile Speaker
Feonic Invisible Speakers are low profile solid state audio transducers. About the same footprint as a smartphone and a few inches deep. Quick and easy to install; screw onto either side of surfaces like drywall (plasterboard), metal, wood etc.
Attach to non porous surfaces like glass walls, windows or even mirror TVs as used in hotel rooms. Mount on glass using the included sticky pads.
Install in minutes where access to the rear of the wall, floor or ceiling panel is available. Or hide away in corners, or behind furniture or artworks for even easier installation. Don't cut holes in expensive wood panelling or plasterboard. Avoid expensive re-decoration and repairs to drywall.
Simple installation behind surfaces makes our equipment ideal for the heritage audio market. Add sound to a historic building without unsightly speakers or grilles.
Case Study - Fully Waterproof Speaker Installation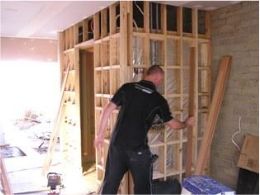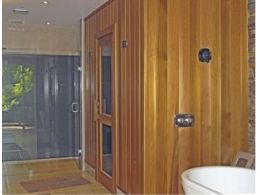 High humidity and high temperatures of up to 90C challenge traditional speakers. Mount the sound transducers on the outside and there are no heat and waterproofing problems. Read more about this installation (PDF).
"I have found that the sound quality is excellent and somewhat surprisingly there is also good stereo separation within the sauna. I would strongly endorse this method of bringing sound into a sauna".
Massive Power : Micro Vibration Speaker : Zero Cracking of Surfaces
Our audio transducer drives use extreme power micro vibrations with amplitude up to 300 times less than traditional speakers. This ensures surfaces are not damaged or cracked in any way.
A speaker diaphragm is around 4 to 8 inches across. Our approach creates a diaphragm around 30 to 50 times larger. This sends waves of sound from the surface to fill a room with sound. Avoiding the point source line of sight from traditional cone speakers. Generating an immersive stereo sound quality quite unlike anything you have heard. And powerful enough to turn a 200 year old solid oak floor into a giant speaker surface (PDF Case Study).
Some Technical Specifications
More details on our Tech Specs Download page
.

F1PRO Surface Speaker


Optimal amplifier power rating: 100Watt
Power Consumption Pink Noise: < 60 Watts (full bandwidth music)
Sensitivity: 69dBA @ 1m
Typical Bandwidth: 60Hz - 20,000Hz
Sound Pressure Level 1kHz: 95dBA @ 1m
Sound Pressure Level Pink Noise: 90dBA @ 1m

Robust, Reliable, Weatherproof. Easy to Install, Remove and Re-Position
Whether you need invisible wall speakers or invisible ceiling speakers our range of vibration speakers are easy to test in situ. You can test our speakers before installation (unlike other in wall speakers). Hold a drive against the surface to find the best sounding location.
Our surface speakers handle the extreme environments of boats, bathrooms and saunas; enduring heat, humidity, frost and even work under snow. Installation on the rear of a surface to create waterproof speakers.
Mount the audio transducer behind a wall; conceal under a floor; or use as invisible ceiling speakers.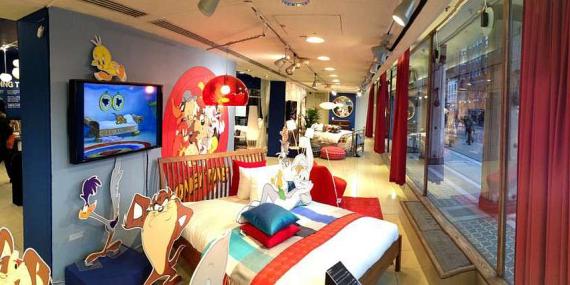 Use our audio equipment for many applications. Including:
home cinema or to sound enable an entire house
in the office or boardroom (turn your boardroom table into a giant concealed speaker)
innovative uses such as hotel room mirror TV speakers
or to sound enable museum display cases at prices that make sense and with cheaper installation costs
Many artists and sound designers have used our drives in their sound art installations
All the above solutions are solving acoustic problems today. Take a look at some of the many case studies which show the incredibly versatility of our unique audio technology.
Contact us or use the contact details below to learn how you can buy our exciting invisible speakers at prices that compare favourably with in wall speakers but with much cheaper installation options.