Outdoor Speakers needn't be bulky and obtrusive. Plastic rocks with grilles look just that - plastic, with grilles. Instead, turn your entire wooden deck surface into a waterproof outdoor speaker.
Our pro audio equipment uses high power vibrations to turn resonant surfaces into the lowest of low profile outdoor speakers. Ideal for surfaces such as wooden decks, metal, glass and drywall.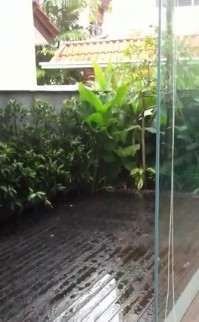 Invisible Outdoor Speakers for your Deck, Wooden Walkways and Patio Surfaces
Use on any external location that has a resonant surface (makes a pleasant sound when tapped). The powerful micro vibrations produced by the drives emit sound from both sides of the surface. This makes them the ultimate waterproof speakers - fit underneath or outside wet areas. Water never gets near them.
Banish your Plastic Rock Speakers
Install under the decking surface for invisible waterproof outdoor speakers.
Generates ambient surround sound. Immersive, without "too loud" hotspots. A great talking point for your guests who will never guess where the sound is coming from.
Compact, Portable, Powerful. Easy to Install, Remove and Replace
Low profile speakers about the same footprint as a smartphone and a few inches high. Screw onto surfaces for audio within minutes. Mount on or under surfaces, or behind panels. Both sides emit sound (think of someone knocking at your door - both sides emit the sound). Or use our sticky pads for mounting on glass and acrylic.
Amplifiers and Wireless Speaker options
Our outdoor speaker kits are available with a lightweight (and tiny) amplifier. Or connect them to your home stereo / home cinema system.
Wireless outdoor speakers are a workable concept with our drives. Perhaps getting power from garden buildings or powered features such as a jacuzzi. Get in touch to discuss options.
The Best Waterproof Outdoor Speaker
In specific circumstances you may need waterproof speakers to IP67 standard. All our drives are weatherproof to IP55 standard. Good enough all weather robustness to cope with rain, frost, pressure washing etc.
The best way to install waterproof speakers is to ensure they never get wet. Traditional waterproof speakers require cutting through surfaces. Instead, install our drives on the opposite side of the sound generating surface. So you can mount our drives on the external surface of a sauna, steam room, jacuzzi or hot tub. Or as under floor speakers on decking or outdoor buildings.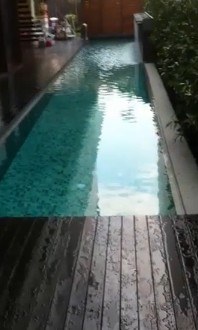 Advantages over traditional outdoor loudspeakers:
Invisible
Sound emitted evenly across the wooden deck surface. Elimination of hot spots. Don't blast overwhelming sound at people. Reduced noise pollution - less disturbance for your neighbours
No plastic rock speakers with grilles compromising your design
Weatherproof (waterproof has a specific definition - most "waterproof speakers" aren't). Effectively waterproof with careful positioning
Install on other surfaces like drywall, hollow roof beams and glass. Perhaps mount on your patio or restaurant windows for the same sound inside and outside
Installing waterproof speakers is difficult with potential damage to surfaces. Our drives are easy to fit - often in minutes
An immersive surround sound experience quite unlike any other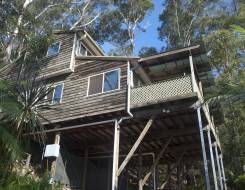 An amazing example of the versatility of our product. This house in Australia has our drives installed outside the building. Screw mounted under the wooden floor with exposure to extremes of heat and humidity. Creating an immersive surround sound experience inside and out.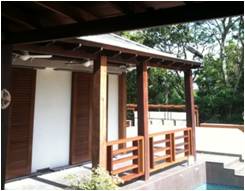 Business and Commercial Premises
Our outdoor deck speakers work for both home and business use. Consider the veranda, balcony, porch or terrace of a home, restaurant or bar. Perfect locations for outdoor sound without design compromise.
Ambience and Mood : Set the Tone
Besides visual aesthetics, another key advantage is an ambient sound experience. Traditional loudspeakers result in the people who are close to the speaker hearing sound that is too loud. You want guests at home or at your restaurant, bar or cafe to listen to the best quality mood enhancing music.
The Feonic outside speaker solution emits sound from large surface areas. Everyone hears the same quality sound at the perfect volume.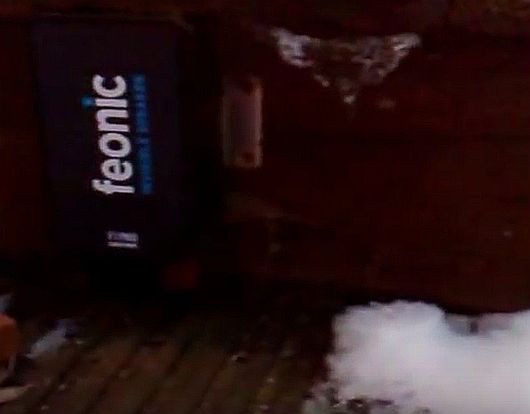 Audio for Wooden Walkways in Gardens, Tourist and Heritage Locations
Our surface speaker technology works for walkways, nature trails, marinas and coastal walks having passed rigorous Japanese Salt Water tests. Our solid state audio technology is impervious to temperatures around 100°C and down to minus 20°C. They even work when covered in snow.
---
Build our drives into kiosks or viewpoint information signs
Add a solar panel, a proximity switch or "a press to play" commentary button. Deliver a memorable audio experience to visitors and tourists
Integrate with wireless outdoor speaker technology for maximum flexibility
Perfect for the heritage market as information panels can have audio for different languages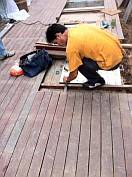 "Design and install of a multi zone music system for a new bungalow in Singapore. With a sound enabled wooden strip raised deck. The sound quality that we achieved was amazing and the customer was very happy with the installation". Feonic reseller in Singapore.
We think we have the best outdoor speakers for when you demand quality sound without aesthetic compromise. Our surface speaker approach will be unlike anything you've seen or heard. Contact us and we'll identify your nearest reseller. Or you can buy direct from our UK office.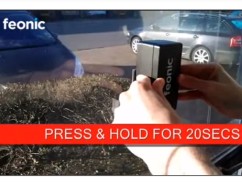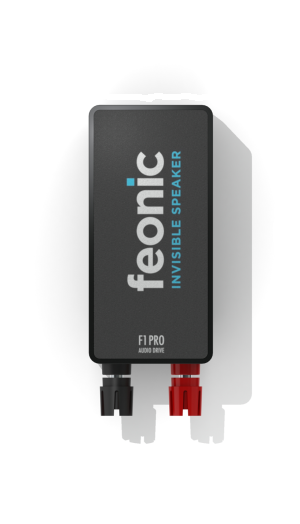 SINGAPORE:
Composite decking turned into a speaker. The hiss is a water feature. Feonic drives work well in wet/damp conditions
LONDON, UK:
Composite and Wooden deck turned into a speaker. Feonic drives work even under snow and icy conditions