Trailer of the Weather Experience, Pommern - 100 days under sail
24 F1PRO Feonic Invisible Speakers mounted around the interior of the ship. Supported by 4 subwoofers.
From Kimmo Karjunen with Sound Designer Tuomas Fränti. On Vimeo.
Buy Feonic for high end surface speaker audio technology. For home and business applications. Wired and Bluetooth Wireless options.
Create Picture Frame Speakers or Mirror Speakers. With Bluetooth Wireless Surface Speaker technology.
Sound enable both sides of: walls, floors and ceilings.
Surface materials include: wood, drywall, plasterboard, sheet metal. Glass, plastic, plexiglass.
Easy to fit using simple DIY tools: screws or sticky pads for glass. There is no need to cut holes in walls or ceilings.
Hide around the home for sound zones in every room including halls and bathrooms.
Consider also: desks, tables, furniture. Mirror TV Speakers.
Perhaps play a poem or music from an artwork.
There really is nothing to see - just sound.
The output from Feonic's F4 was so impressive on the mirror glass that we have decided to use it for many audio output requirements in different hospitality sector projects we are working on.
Picture Frame Speakers - Turn your favourite artwork into a flat speaker

Picture frame speakers project by Adriana Paice. Intimate sound played just for the viewer.
Convert an artwork into a flat speaker. The picture frame hides the audio technology: the surface generates the sound. Creating an exciting immersive audio experience without speaker boxes or grilles.
Any Surface Speaker Drives
We should show you another image of one of our invisible speaker solutions here. But with Feonic there is nothing to see. Take a look at your picture frame, wall, ceiling or floor...
that's what your flat panel speakers will look like

Flat Speakers are created when our surface transducer applies micro vibrations to a resonant panel.
This approach enables you to hide the small transducer near the edge of a panel. For easier installation mount near the bottom of a wall where it can be hidden by furniture or ideally mount on the reverse side of a surface making it completely invisible.
Besides great quality audio you also get a more even sound distribution. The entire panel emits the sound; preventing "too loud" hotspots.
We can help you turn any surface into a speaker - it just has to be resonant. That is, makes a nice sound when tapped. A brick or lump of concrete? Sadly no.
Invisible Speakers for Immersive Museum Installations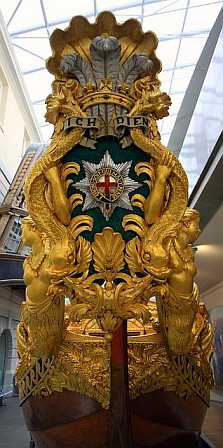 "With Feonic Technology I invisibly transformed a 10 meter long wooden walkway into a multichannel speaker array.
The walkway runs alongside the boat and sound emanates from the entire surface of its structure. Listeners associate sound with the exhibit directly and intuitively.

Loudspeakers state: 'I am a loudspeaker', instead we want the sound to speak for itself".
---
Large PA Speaker Solutions
The biggest drive in our range has the same footprint as a smartphone and is a few inches high. The smallest is a little bigger than a matchbox. But a few drives can distribute sound over a huge area... Learn more about ways to reduce echo and reverberation from PA Speakers in halls, galleries and other large rooms.

Loudspeakers: always at or near eye level: always in line of sight. Why?
Whether hidden or fully invisible our drives avoid loudspeaker clutter: boxes, wires, brackets, grilles. Effectively wireless by hiding wires or Bluetooth options too for a fully wireless speaker.
Always at or near eye level: always in line of sight.
And this visible distraction for a technology for the ears not the eyes.
A low profile speaker embedded in a ceiling, wall or display case results in an untidy grille. Resulting in poor design outcomes and can attract dirt. Most typical flat panel speakers are thin but still boxes only slightly less obvious than their boxy cousins.
Choose Feonic to avoid visible clutter and an expensive and messy installation. Options to create flat bluetooth wireless speakers.
Both sides emit a high quality dispersed sound field for an immersive surround sound experience. No surface damage. 80Hz up to ultrasonic frequencies of 22KHz.