Outdoor Rock Speakers look plastic, fake and out of place. Feonic have an alternative. Choose our invisible outdoor speakers which turn surfaces into speakers. Ideal for deck, patio & garden.
The Best Way to Hide Outdoor Speakers. For Deck and Patio Surfaces
Create the perfect outdoor garden speakers using Feonic audio drives. The drives turn resonant surfaces such as wood, metal, glass and drywall into speakers. They work outdoors, all year round and are weather resistant to sun, rain, snow or frost. The drives require no maintenance, can be pressure washed (waterproof to IP55 standard) and will not deteriorate with time. They can be easily fitted on or under the decking surface using our mounting plate accessory. Our Kits are available with a very lightweight (and tiny) amplifier or connect them to your home stereo / or home cinema system.
Take a look at this short video showing composite deck speakers in action. In very wet conditions next to a pool (the hiss on the audio is the water feature).

No boxes, no visible wires and no obviously fake plastic rocks with grilles
Surround Sound that is Truly Immersive and Engaging
The drives will turn your wooden or composite deck surfaces into speakers which gently immerse people in music. The sound rises evenly across the surface so all hear the same sound level; unlike traditional speakers which inevitably are too loud for those near the source. And as the sound is projected upwards you won't need to worry so much about your neighbours. With no single point source as with traditional rock speakers, you can create the ultimate all around sound experience.
You want music not boxes or plastic rocks. Clear the decks
The audio drives low profile and small size makes them easy to hide. If under deck access is difficult you can hide them behind a plant pot and they'll never be seen (unlike tacky plastic rock speakers). Ideally, fit them underneath the decking to create completely hidden outdoor speakers. The powerful micro vibrations produced by the drives emit sound from both sides of the surface. Your friends or party guests will never guess where the sound is coming from.
Advantages over traditional outdoor speakers
No tacky plastic rock speakers with grilles compromising your design
Weatherproof (waterproof has a specific definition – most 'waterproof speakers' aren't)
But with careful installation can be effectively waterproof as both sides of surfaces emit the sound. Mount on the outside of a sauna and the sound will be emitted within. Attach to a jacuzzi for a similar effect.
Sound emitted evenly across the wooden deck surface
Elimination of hot spots. Overwhelming sound needn't be blasted at people anymore
Can be hidden speakers (hide on deck surface) or invisible speakers (hide under deck)
Formal Gardens and Wooden Walkways
"We were contracted to design, implement and install a multi-zone piped in music system for a new bungalow belonging to a prominent businessman in Singapore. This was a very interesting project as this was the first time we have done a wooden strip raised deck. The sound quality that we achieved was amazing and the customer was very happy with the installation".
Eugene in Singapore
Additional Uses: Museum Installations and Commercial Outdoor Operations
The audio drives are perfectly suited for walkways, nature trails, marinas and coastal walks. They have passed rigorous Japanese salt water tests and are impervious to temperatures in excess of 100°C and down to minus 20°C. They even work when covered in snow.
Build them into kiosks or viewpoint information signs. Perhaps with a solar panel, a proximity switch or "a press to play" commentary button. This to deliver a memorable audio experience to your visitors and tourists. Improve information panel accessibility for the blind or enable multiple language interpretation.
Weatherproof Speakers mounted outside the building under the house floors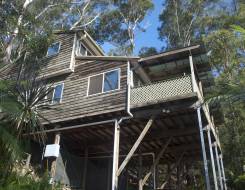 You may find this post helpful, describing an Australian installation of our top of the range F1 Pro drive. Underfloor Speaker – outside in a hot, humid, damp environment. Our drives are used in homes too. Giving an immersive sound quality ideal for surround sound and are often used to provide sound throughout the home.
Inside and Outside : we have the solution for you: for when design and aesthetics matter.
How to Buy our Outdoor Garden Speakers
For wooden and composite surfaces ask for our mounting kit. Visit our Contact page on our main website – contact details to buy outdoor speakers.
Take a look at our main website page for more on our Hidden Outdoor Deck Speakers